While looking for Superman comics in Spanish as I vacationed in Mexico City back in late 1967 at the age of 8, I happened to come across "El Monje Loco" #1.  The cover blew me away!  Check it out: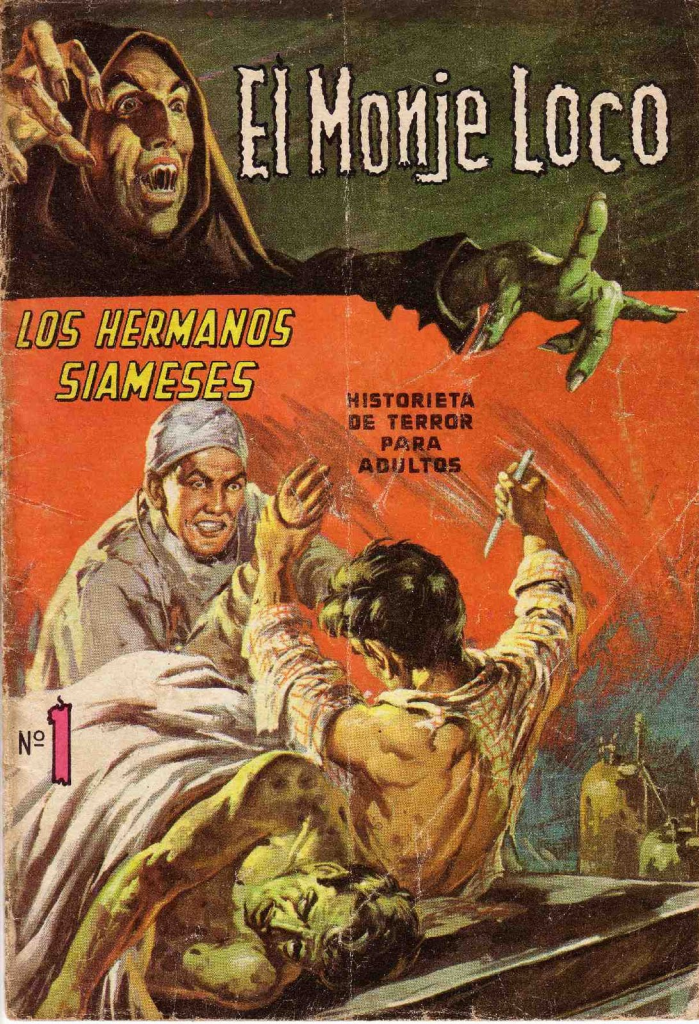 The tale is called, "The Siamese Brothers", while the issue is described as containing a "Comic Book Story of Terror for Adults".  The story is about how one of the twins becomes so jealous of his brother that he decides to murder him.  He finds out hiding the body isn't that easy.  Great stuff!!!
Although that first issue didn't deal with any monsters or paranormal entities, it didn't take long before they were added to the mix.  That first story's eeriness, thrills, and chills got me hooked immediately!
Luckily my dad was in a generous mood, so I was able to get him to buy me the Superman comics PLUS "El Monje Loco" #1!  I'd been born too late in the USA to have ever bought any of the EC horror comics.  Since comics at that time were considered mainly for kids only, I'd never even known any kind of horror comics had ever existed.  We stayed in Mexico for a few weeks, so I was able to collect quite a few comics during our stay there.  My aunt (who was my dad's half-brother's wife) told me she'd continue to buy the weekly "El Monje Loco" comics for me.  She said she'd put them away until the following year when we returned---my dad had made it an annual trip since 1964---she'd then give me the stack of what had been published until then.  Obivously we didn't know how long the title would be published, but I told her I'd be happy with whatever she had a year later.  As it turned out, the title lasted over three more years!  She had nice stacks all ready for me in 1968, 1969, and 1970.  What luck!  Not only did I get much better at reading in Spanish, but I'd enjoyed reading the creepiest stories I'd ever known of while enjoying the horrific art filled with illustrations of walking corpses, werewolves, vampires, witches, ghosts, torture chambers, and other horrors I'd never imagined before.
"El Monje Loco" is translated literally as "The Mad Monk".  The comics consisted of "El Monje Loco" introducing all of his tales from the black church he haunted while usually playing the pipe organ there.  Many tales had plot twists and surprise endings similar to EC's horror comics.
My dad told me "El Monje Loco" had originated as a radio show host back in the 30s.  Recently I heard one of the introductions and endings of an episode on You Tube.  When I first heard it, I couldn't believe how spot on my dad's impression of "El Monje Loco" had been.
From what I've been able to find on the web, there was a comic book series in the 50s that lasted through to the early 60s.  An unauthorized and unlicensed second series began in early 1967, but it was quickly canceled when the official licensed series that I ended up collecting came out.
Why bring all of this up?
Recently, I happened to find out there'd actually been a movie entitled "El Monje Loco" (1940).  It consisted of the basic format where "El Monje Loco" introduces six terrifying tales similar to the "Tales From the Crypt" and "Vault of Horror" movies.  Having loved those movies and the comics I have, I'd really like to find a copy on Blu-ray,. DVD, VHS.....even Betamax!
Does anyone know where I can acquire a copy?